Liu Awarded Patent for Broadband Wireless Communication Systems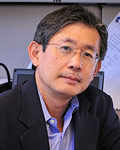 Professor
K. J. Ray Liu
has been awarded U.S. Patent 7,720,168, issued on May 18, 2010, for his invention, titled "
Systems and Methods for Coding in Broadband Wireless Communication Systems to Achieve Maximum Diversity in Space, Time and Frequency
." Dr. Liu received the patent along with co-inventors Dr.
Weifeng Su
, who served as a postdoc under Liu before joining the faculty at State University of New York (SUNY) at Buffalo, and ECE alumnus Dr.
Zoltan Safar
, a 2003 Ph.D. graduate and former advisee of Dr. Liu, who now serves on the faculty of the IT University of Copenhagen.
The researchers worked together to invent a novel method for conveying an encoded data stream in a multiple-channel, multiple-frequency wireless communication system in a manner that achieves maximum space-frequency (SF) or space-time-frequency (STF) diversity. A transmitter is provided with a plurality of transmit antennas and means for simultaneously transmitting through each antenna a corresponding symbol over a corresponding plurality of frequencies. A receiver is provided with a plurality of antennas and means for recovering the data stream from the symbols transmitted over the plurality of frequencies. The data stream is encoded through the use of codewords formed from symbols corresponding to data in the data stream. A decoder is coupled to the receiver for decoding the transmitted codeword and recovering the data from the data stream.
The invention received the University of Maryland's Invention of the Year Award in 2004.
To learn more about the invention, visit the U.S. Patent website.
Published June 4, 2010