14th ECE Fall Internship and Career Fair Attracts 45 Employers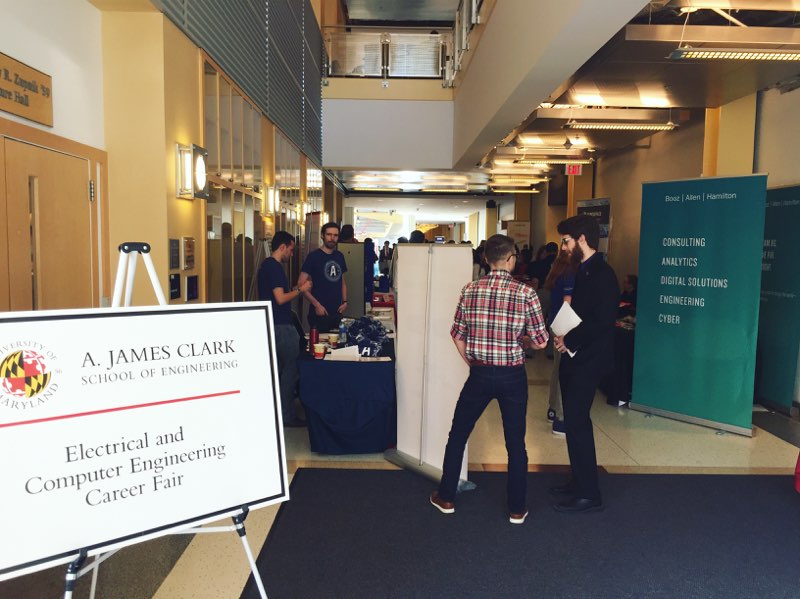 The 14th annual Electrical and Computer Engineering (ECE) Fall Internship and Career Fair attracted 45 employers on October 27th, 2017 in the Jeong H. Kim Engineering Building. Career Fair booths were stationed on the first and second floors of the Kim building.
The ECE department hosted the following employers:
The Aerospace Corporation, Advanced Technology and Research Corp, Afiniti, Alarm.com, Alertus, Amazon, Appian, Bechtel Plant Machinery, Inc., Burdette, Koehler, Murphy & Associates, Inc., Booz Allen Hamilton, Cadence Design Systems, Capital One, Capgemini Government Solutions, Cipher Tech Solutions, Credible, Inc, Curtiss-Wright, Goldman Sachs, Hughes Network Systems, Institute for Defense Analyses, Intelsat, Intralox, The Johns Hopkins University Applied Physics Laboratory, Key Tech, KeyW Corporation, Leach Wallace Associates, Inc., Leidos, LGS Innovations, M.C. Dean, Mil Corp, Motorola Solutions, National Security Agency, Northrop Grumman Corporation, PCTEST, RKF Engineering, Systems Engineering Group, Senseonics, STEER Tech LLC, Stanley Black and Decker, Systems and Technology Research, Techligent Systems, Inc., Textron Systems, Texas Instruments, US Army Night Vision and Electronic Sensors Directorate, U.S. Naval Research Laboratory, WB Engineers and Consultants.
The participating employers offered opportunities for internships and full-time positions, and students were able to make connections and network with potential employers, mentors, and peers. The fair is co-sponsored by the Engineering Co-op and Career Services Office. The Spring ECE Career Fair will be held in March 2017.
Published October 31, 2017