ECE Alumna Rose Faghih Named an MIT Technology Review 2020 Innovator Under 35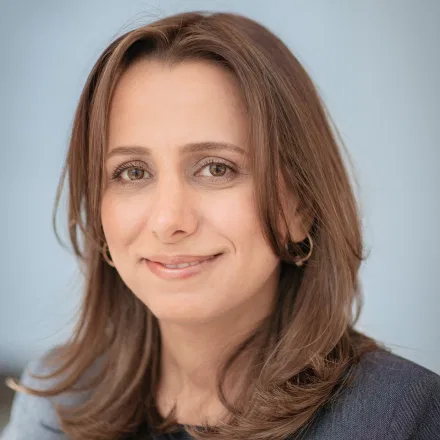 Yesterday, MIT Technology Review announced that Rose Faghih ('08, electrical engineering), has been named to their prestigious annual list of Innovators Under 35 in the Visionary category. Every year, the world-renowned media company has recognized a list of exceptionally talented technologists whose work has great potential to transform the world.
Faghih, an assistant professor in the Department of Electrical and Computer Engineering at the University of Houston, has been recognized for her project on sensor-laden wristwatch that monitors brain states, that could determine what's happening deep inside your brain. Faghih completed her postdoctoral training at the Department of Brain and Cognitive Sciences and Picower Institute for Learning and Memory at MIT. She received her M.S. and Ph.D. degrees in Electrical Engineering from MIT and graduated summa cum laude and first in her class from the University of Maryland with a bachelor of science in Electrical Engineering (Honors Program Citation). Her other recent recognitions include the 2020 National Science Foundation (NSF) CAREER Award, a 2019-2020 Research Excellence Award as well as a 2019-2020 Teaching Excellence Award from the University of Houston's Cullen College of Engineering, 2019 National Academy of Engineering's U.S. Frontiers of Engineering Symposium and the 2016 IEEE-USA New Face of Engineering, an award for engineers 30 and younger. Moreover, earlier this year, Faghih was featured by the IEEE Women in Engineering Magazine's "Women to Watch" section.
According to Kathryn Miles, Contributor at MIT Technology Review:
"Faghih has developed an algorithm to analyze otherwise imperceptible changes in sweat activity—a key indicator of stress and stimulation. Using two small electrodes attached to the back of a smart watch, she can monitor changes in skin conductance caused by sweat. Signal-processing algorithms then allow Faghih to correlate those changes with specific events, such as a PTSD-related flashback or even just wandering attention, in order to pinpoint the person's brain state.
Typically, this kind of real-time data is available only by way of expensive scalp-based electrode systems like EEG or functional MRI. Faghih's "Mindwatch" would in theory be cheap and portable enough to let people monitor their brain states anywhere.
Faghih hopes it will help people manage their own changing moods and mental states: a wearable with her technology could suggest that an agitated driver try some deep breathing or prompt a lonely shut-in to turn on mood-enhancing music. For people with mental illness or chronic conditions like diabetes, it could potentially even trigger an automated deep-brain stimulation device or an insulin pump."
Gideon Lichfield, editor in chief of MIT Technology Review, said: "MIT Technology Review's annual Innovators Under 35 list is a chance for us to honor the outstanding people behind the breakthrough technologies of the year that have the potential to disrupt our lives. These profiles offer a glimpse into what the face of technology looks like today as well as in the future."
Learn more about this year's honorees on the MIT Technology Review website here. The honorees are also invited to participate at the upcoming EmTech MIT conference, MIT Technology Review's annual flagship event that offers a carefully curated perspective on the most significant developments of the year, with a focus on understanding their potential economic and societal impact. EmTech MIT will be held virtually October 20 - 22, 2020. Click here to learn more about the event.
About MIT Technology Review
Founded at the Massachusetts Institute of Technology in 1899, MIT Technology Review is a world-renowned, independent media company whose insight, analysis, reviews, interviews and live events explain the commercial, social and political impact of new technologies. MIT Technology Review derives its authority from the world's foremost technology institution and from its editors' deep technical knowledge, capacity to see technologies in their broadest context, and unequaled access to leading innovators and researchers. The mission of MIT Technology Review is to make technology a greater force for good by bringing about better-informed, more conscious technology decisions through authoritative, influential, and trustworthy journalism. Subscribe. Follow: Twitter, Facebook, LinkedIn, Instagram.
About EmTech MIT
Launched in 1999, MIT Technology Review's annual flagship conference has a longstanding legacy of exploring the biggest technologies and trends of the day. Being held virtually for the first time October 20-22, 2020, EmTech MIT will offer a carefully curated perspective on the most significant developments of the year, including artificial intelligence, climate adaptation, personalized medicine, data security, and more. Part of the esteemed EmTech Event Series, this conference conducts a deep dive into how these technologies impact society, research, education, and life as we know it. EmTech MIT features conversations from innovators, entrepreneurs, researchers, industry leaders and some of the world's most brilliant minds. In addition, MIT Technology Review's Innovators Under 35 are all invited to appear at the event, representing the best and brightest technologists the world has to offer. Learn more.
Published June 18, 2020