ECE Student Emmeline Zhu Selected as 2013-14 IEEE PES Scholarship Plus Scholar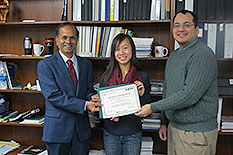 Junior Electrical and Computer Engineering student Emmeline Zhu received a $2,000 IEEE scholarship as part of the IEEE Power and Energy Society (PES) Scholarship Plus Initiative. Minta Martin Professor of Engineering and Electrical and Computer Engineering Department Chair Rama Chellappa presented the award.
Zhu was one of a select group of students from 117 U.S. and Canadian universities who received an IEEE PES Scholarship. The award recognizes undergraduate students in electrical and computer engineering with high GPAs and who are active in extracurricular activities and are committed to exploring the power and energy field.
For more information on the IEEE PES Scholarship Plus Initiative, visit www.ee-scholarship.org.
Published December 18, 2013