Papamanthou Named Director of MC2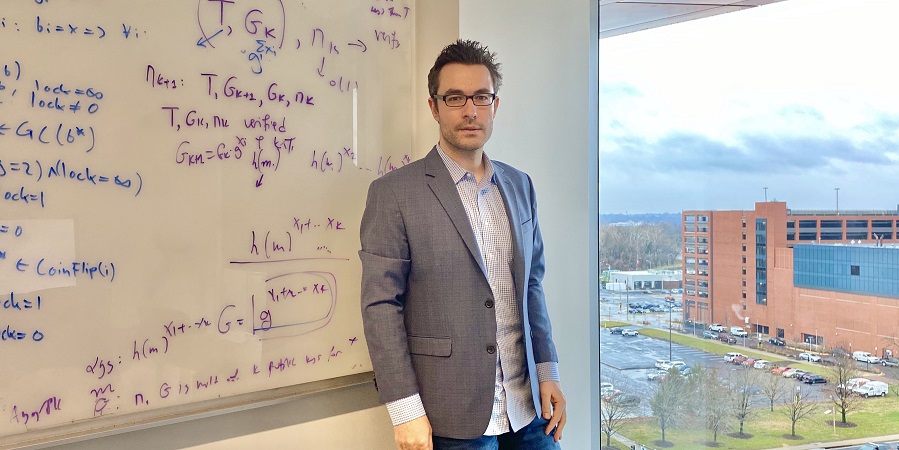 A University of Maryland expert in computer security and applied cryptography will now lead one of the nation's preeminent centers dedicated to cybersecurity research and education.
Charalampos (Babis) Papamanthou, an associate professor of electrical and computer engineering, was appointed to a three-year term as director of the Maryland Cybersecurity Center (MC2), effective December 2.
Papamanthou will provide leadership to the unique center that joins computer scientists and engineers with researchers from across campus in fields such as economics, supply-chain management and the social sciences.
"My aspiration is to enhance and cement MC2's world-class reputation as a premier cybersecurity research and education institute," says Papamanthou, who has an appointment in the University of Maryland Institute for Advanced Computer Studies (UMIACS).
MC2 was launched in 2010 with strong support from the A. James Clark School of Engineering and the College of Computer, Mathematical, and Natural Sciences (CMNS). Since then, the center has fostered numerous collaborations in cyber-related research, education and technology development with major corporations that include Cisco Systems, ManTech, Tenable, Lockheed Martin and Northrop Grumman.
The center also has a robust community of graduate students, with some of them working with UMD faculty on new areas of research like blockchain and cryptocurrency security or post-quantum cryptography. Many MC2 alumni have received faculty appointments at top universities including Princeton, the University of Michigan, Texas A&M, Northwestern, Duke and others.
Papamanthou—working closely with administrators in the Clark School and CMNS—wants to increase research opportunities for students and is also exploring the idea of an MC2 postdoctoral fellowship program.
"In close collaboration with our faculty, the center will be hiring excellent junior and senior faculty and will be recruiting center-wide postdocs," he says.
In addition, Papamanthou says that the center will be support faculty efforts to pursue new funding opportunities, leveraging the proximity to major cybersecurity stakeholders in the Washington, D.C., region.
Papamanthou joined the faculty of the University of Maryland in 2013, having previously worked as postdoctoral researcher at the University of California, Berkeley, and as a research intern at both Microsoft and Intel.
He has published almost 100 scientific papers with nearly 6000 citations, three of which are on the list of top-cited Security Papers.
Papamanthou holds five U.S. patents, and won an Invention of the Year Award in 2014 for designing technology that allows users to store data in the cloud more securely, while providing proof that it was not tampered with.
Since joining UMIACS, Papamanthou has received grants from the National Science Foundation, Yahoo! Labs, Google, the Blockchain Institute, and NetApp. He also done professional consulting for the World Bank, Oasis Labs, Atakama and Nira Inc.
Papamanthou earned his doctoral degree in computer science from Brown University. He holds two master degrees in computer science—one from Brown and one from the University of Crete, Greece—in addition to an undergraduate degree in applied informatics from the University of Macedonia, Greece.
He succeeds outgoing director Johnathan Katz who has relocated to George Mason University, but is continuing to collaborate with MC2 faculty and advise students at the University of Maryland.
—Story by Maria Herd
Published December 10, 2019