Prof. Alireza Khaligh to receive Outstanding Young Alumnus Award from Illinois Tech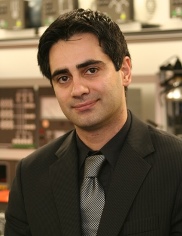 Associate Professor Alireza Khaligh (ECE/ISR) is the 2017 recipient of the Outstanding Young Alumnus Award from Illinois Institute of Technology (IIT). The award is given to an individual age 40 or younger who has advanced rapidly over the course of his or her career and has displayed significant achievement in the areas of leadership and professional success, and it is one of nine awards presented annually by the Alumni Association. Dr. Mahesh Krishnamurthy, Associate Professor at the IIT Armour College of Engineering, nominated Khaligh.
Of his nomination, Khaligh says, "It is a great honor for me to receive Illinois Institute of Technology's Outstanding Young Alumnus Award. I am grateful for the strong education that fostered my career. I am also grateful to my Ph.D. advisor, Prof. Ali Emadi, who has not only been my academic advisor but also a wonderful mentor and friend throughout my career."
For advice to young students, "Find what you are passionate about, work hard, believe in yourself and you will have a profound impact in the betterment of the world!" says Khaligh.
Khaligh will be given the award at the IIT 2017 Alumni Awards luncheon and presentation on Friday, April 21 in Chicago, IL.
Khaligh directs the Maryland Power Electronics Laboratory (MPEL) at the University of Maryland (UMD). Prior to UMD, he was an Assistant Professor at Illinois Institute of Technology, and also a Post-Doctoral Research Associate in the Grainger Center for Electric Machinery and Electromechanics in the University of Illinois at Urbana-Champaign (UIUC).
His major research interests include modeling, analysis, design, and control of power electronic converters. He is an author/co-author of more than 160 journal and conference papers as well as two books including Energy Harvesting: Solar, Wind, and Ocean Energy Conversion Systems (CRC Press, Dec. 2009).
He is the recipient of various recognitions including the 2016 Junior Faculty Outstanding Research Award from Clark School of Engineering at UMD, 2015 Inaugural ISR Junior Faculty Fellowship from the Institute for Systems Research at UMD, 2013 George Corcoran Memorial Award from the ECE Department of UMD, 2010 Ralph R. Teetor Educational Award from Society of Automotive Engineers, 2009 Excellence in Teaching Award from IIT, and three Transaction Paper Awards.
Published April 18, 2017