Professor Mayergoyz and Alumnus Korman Publish Book on Hysteresis and Neural Memory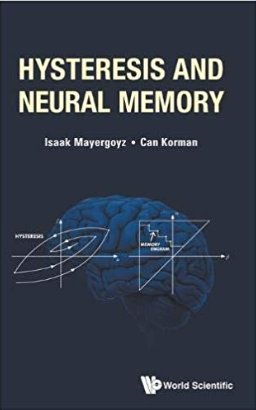 A new book written by Dr. Isaak Mayergoyz and Dr. Can Korman (B.S. '85, M.S. '87, Ph.D. '90) was released last month. Titled "Hysteresis and Neural Memory," this is the 15th book published by Dr. Mayergoyz. It focuses on Preisach hysteresis models and their applications to the modeling of neural memory. Through their research, Dr. Mayergoyz and Dr. Korman, who is a Clark School alumnus and associate dean of Research and Graduate Studies and professor at George Washington University (GWU), demonstrate that Preisach hysteresis models mimic such properties as: selective nature of neural memories extracted from sensory inputs, distributed nature of neural memories and their engrams, neural memory formation as an emerging property of sparse connectivity, neural memory stability with respect to protein turnover, neural memory storage plasticity, and neural memory recalls and their effect on storage.
Professor Mayergoyz has been a faculty member of the Department of Electrical and Computer Engineering since 1980. He was instrumental in establishing the electric power engineering curriculum and he currently teaches Power Systems and Power Electronics. In 2018, he was named a Distinguished University Professor of the University of Maryland. His past awards include the University of Maryland Distinguished Scholar-Teacher Award, the College of Engineering Poole and Kent Senior Faculty Teaching Award and the ECE George Corcoran Award. In 2009, he received the Achievement Award from the Magnetics Society of the Institute of Electrical and Electronics Engineers (IEEE), the highest award given by the society.
As a world renowned scholar in his field, focusing on electrophysics, Dr. Mayergoyz has also written or co-written over 400 scientific papers. He is a Fellow of IEEE and has served on many IEEE committees and editorial boards of scientific journals in addition to acting as Editor of Academic Press-Elsevier Electromagnetism series and Editor of IEEE Transactions on Magnetics. In the past, he acted as a consultant and as a visiting scholar for the Research and Development Center of General Electric Company.
While at Maryland, Dr. Can Korman was advised by Professor Mayergoyz. After completing his Ph.D., Korman joined GWU in 1991. He served as Chair of the ECE Department from 2005 to 2009 and he is currently serving as the Associate Dean for Research and Graduate Studies in the School of Engineering and Applied Science. His professional expertise is in the areas of micro-nano-electronics, micro-electro-mechanical systems (MEMS), sensors, semiconductor noise, magnetic recording and hysteresis. He recevied a Distinguished Alumni Award from the ECE Department in 2017.
With the publication of "Hysteresis and Neural Memory," Dr. Mayergoyz and Dr. Can Korman hope to reach an audience of neuroscientists, biologists, bioengineers, electrical engineers, applied mathematicians and physicists, as well as anyone else interested in neural memory and its molecular basis.
Published September 11, 2019