2016 ECE Graduate Open House Streamed Live for Prospective Students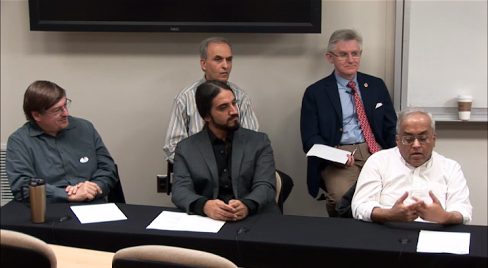 The A. James Clark School of Engineering's Electrical and Computer Engineering (ECE) Department held the 2016 Graduate Open House on October 28, 2016 in the Seigel Learning Center, and for the first time ever, the event was streamed live for ECE undergraduate students across the world to participate. The ECE department partnered with Distance Education Technology and Services to host the event. Prospective ECE students were invited to learn about graduate research opportunities and about graduate life at UMD.
Melanie Prange, Director of Graduate Academic and Student Affairs, welcomed students to the event and introduced Distinguished University Professor and Department Chair of ECE, Dr. Rama Chellappa. Chellappa delivered opening remarks about the quality of education students receive in the United States, and specifically in the A. James Clark School of Engineering's ECE graduate program. Chellappa noted that the department has "the largest graduate program in the university, producing 35-50 PhD students every year."
Professor Ankur Srivastava (ECE/ISR), Associate Chair of Graduate Studies and Research, presented further information about the benefits of graduate studies in the US and at UMD. According to the 2017 Graduate Program Rankings in the U.S. News & World Report, Computer Engineering and Electrical Engineering at UMD ranked
#16 overall
#10 among public universities
#1 among public universities in the northeast
Dr. Srivastava also noted UMD's central location, with close proximity to companies and research institutes located in and around Washington, DC. A. James Clark School of Engineering is also enriched with more than 50 state-of-the-art centers and research institutes that encourage a strong collaborative and diverse learning environment.
A distinguished faculty panel including Prof. Jonathan Simon (ECE/ISR/BIO), Prof. Behtash Babadi (ECE/ISR), Prof. P.S. Krishnaprasad (ECE/ISR), Prof. Joseph JaJa (ECE/UMIACS), and Prof. Patrick O'Shea (ECE/IREAP/Physics/NanoCenter/UMERC), discussed their major areas of research and presented information and current happenings within the institutes and centers they represent. A question and answer segment followed the presentations.
After the conclusion of the faculty panel, Lisa Krayer, President of the Electrical and Computer Engineering Graduate Student Association (ECEGSA), introduced a student panel consisting of four PhD students who were present to answer questions from prospective students as well. Both panels encouraged students to pursue interdisciplinary research in order to get the most dynamic education possible.
The event concluded with a presentation by Melanie Prange and Bill Churma, Assistant Director of Graduate Programs & Recruitment, about the application process and how to submit a competitive application. Types of funding and enrollment factors were also discussed, and a final Q&A section followed.
The event is unique - as it was held in person, but it was also streamed live for those unable to attend. Students from many different campuses and countries tuned in to view the presentation, and were able to submit questions online to be answered by faculty, students, and staff.
To view the video of the Open House, go HERE.
PhD application fees have been waived until Dec. 16, 2016.
Published November 3, 2016