Maryland Power Electronics Laboratory participates in Maryland Manufacturing Day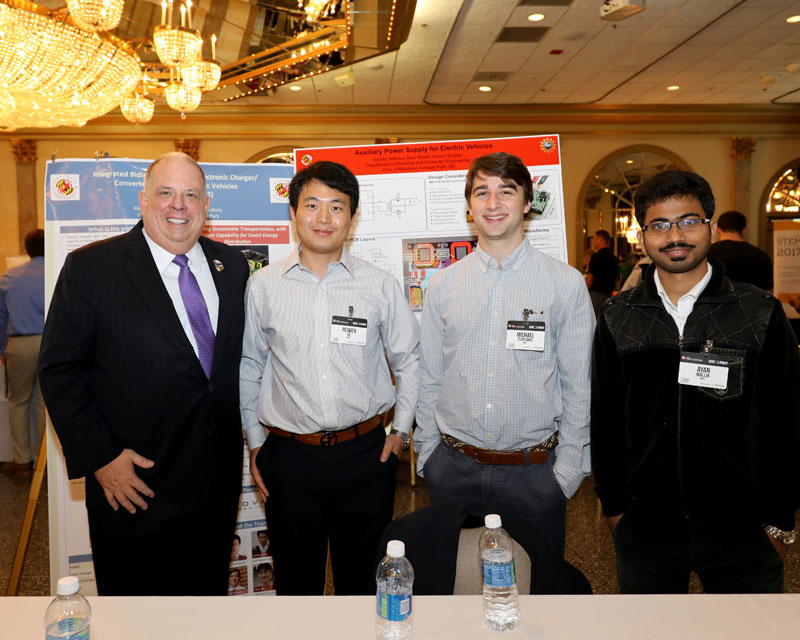 Electrical and Computer Engineering Ph.D. students Michael D'Antonio, Peiwen He, and Ayan Mallik, advised by Prof. Alireza Khaligh (ECE/ISR), participated as one of the few student teams in Maryland Manufacturing Day held on October 6, 2017 in Baltimore, Maryland. The event featured exhibits and technology demonstrations from leading companies and universities in Maryland in the areas of robotics and automation, software engineering, cyber security, 3D printing, and more.
Maryland Governor Larry Hogan attended the event and visited D'Antonio, He, and Mallik's booth on "Integrated Bidirectional Power Electronic Charger/Converter for Plug-in Electric Vehicles" and "Auxiliary Power Supply for Electric Vehicles."
Manufacturing Day, which kicks off National Manufacturing Month, celebrates modern manufacturing and inspires the next generation of manufactures.
Published October 9, 2017