Alumnus Profile: Bikash Koley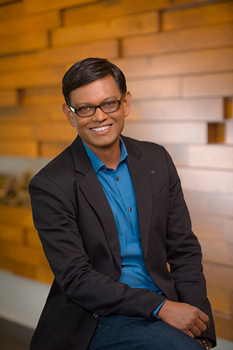 UMD Degrees: M.S. '97, Ph.D. '00, Electrical and Computer Engineering
Bikash Koley is Executive Vice President and Chief Technology Officer of Juniper Networks, an industry leader in automated, scalable and secure networks, in San Francisco, California. Bikash charts Juniper's technology strategy and leads and executes the company's critical technology innovations. Bikash joined Juniper from Google, where he was a Distinguished Engineer and the Head of Network Architecture, Engineering and Planning. He is an industry-leading expert on the topics of software-defined networking (SDN), packet and optical network integration, warehouse-scale computing, and large-scale data center interconnection. Prior to Google, Bikash was the CTO of Qstreams Networks, a company he co-founded. He also spent several years at Ciena Corporation in various technical roles developing DWDM and Ethernet technologies.
Please describe a typical day or week for you as CTO & Executive Vice President at Juniper Networks
In my current role, I am responsible for Juniper Networks' technology strategy and leading our path of ongoing innovation. The most important technology areas of focus for the company at present are software defined networking, packet-optical integration, hybrid cloud and software defined security. The world is hyper-connected and the need for scale-out infrastructure is not slowing down. My job is to anticipate shifts in how large distributed infrastructures are being built by telecom providers, hyperscale cloud providers, enterprises and access providers and stay ahead of the curve by innovating with simplicity. At Juniper, we like to disrupt ourselves and the industry. I am a big believer in scale-out solutions relying on virtualization at every layer, be it packet forwarding engines, routers, hybrid-cloud connectivity or security. I am focused on overseeing our development in technologies such as Contrail, Appformix, next generation cloud OS for our switching and routing products and innovation in routing silicon and photonic technologies.
A significant chunk of my day is spent brainstorming with our senior technologists in the company to figure out how tomorrow's applications and users will connect. Impromptu white-boarding sessions turn into high-level design documents very quickly. I enjoy creating the early high-level designs which I then open up to be critiqued by some of the best and brightest technologists in the company. Almost always, the best ideas come out of these detailed critiques.
We then focus on turning our ideas very quickly into prototypes that we can test with our most advanced and willing customers. We operate in this constant cycle of ideation, execution, feedback and improvement. I am also a big believer of fail-fast and iterate. If we are not trying our ideas out quickly by prototyping, it is impossible to know if we are on the right track. When the future is not known, it is important to predict the future as fast as possible.
We are also constantly evaluating great start-ups with technologies that are complementary to what we are developing at Juniper. Running them through rigorous due diligence for strategic investment, partnership or acquisition is another key part of my job.
Finally, I spend a lot of time with my peers at our top customers, be it service providers, cloud operators or enterprises. It is a constant learning exercise for me, both from how our customers are using our technologies today and how they are trying to anticipate the future.
What was your career path that lead you to your current position?
I have always been a networking guy. Throughout my education, my specialization has been network infrastructure and associated technologies. In my undergraduate days at IIT, Kharagpur, I researched on ATM, the hot networking technology of the nineties. At UMD, I was fortunate to have Prof. Mario Dagenais (ECE/UMERC) as my advisor, who got me hooked on optoelectronics and optical networking. After finishing my PhD from UMD, I got a chance to work for the optical networking pioneer, Ciena, in Linthicum, MD. From then on, my quest has been to work on every-layer of the OSI 7-layer networking stack - from physical to application layers. At Ciena, I worked on some of the earliest commercial technology development in dense wavelength division multiplexing (DWDM) in optical network, programmable terabit-sec core switching, GMPLS and intelligent optical routing, to name a few. Then I got interested in solving the problem of multimedia delivery for the access network operators. I co-founded a company, Qstreams Networks, where I was the CTO for the next several years. At Qstreams, we built a carrier-class packet optical transport and routing solution targeted towards delivering triple-play (voice, video and data) services in the metropolitan area networks. The process of bootstrapping a company from inception through venture funding and successful development of the key product was an amazing learning experience for me. My next adventure was Google, where I had the privilege of having a front row seat as web2.0 and cloud fundamentally transformed the world around us. I started out as a network architect, but over the years my responsibilities expanded quite substantially. Most recently, I was a Distinguished Engineer and the Head of Network Architecture, Engineering and Planning at Google. My team designed, built and operated Google's production network infrastructure, spanning datacenter, backbone(s), optical and the content edge. I also oversaw Google's SDN evolution, network technology strategy and networking research and innovation, enabling ubiquitous programmability and very high reliability. The experience of operating one of the largest and most complex network infrastructures on the planet prepared me well for my latest role as the EVP and CTO of Juniper Networks.
Why did you choose the Electrical and Computer Engineering Department at the A. James Clark School of Maryland?
As I mentioned before, I have been a networking guy for a long time. During my undergrad education at IIT, Kharagpur, my thesis advisor, Prof Debashish Datta, really got me interested in optical networking. As I was researching my options for grad school, the optical networking program at the UMD ECE department, especially in Prof Mario Dagenais' group, stood out. The group was focusing on solving real world problems, building some really cutting-edge technologies in opto-electronics, photonic switching and DWDM. But more broadly, the depth and breadth of talent in the networking space in the department, be it in wireless, cellular, IP or optical network, was very impressive. The deep collaboration with industry and government and proximity to some of the best Government labs was an added attraction. In hindsight, I absolutely made the right decision :-)
How did your education in ECE at UMD help to advance you in your career? What advice do you have for the current ECE Terps?
There are two aspects of great education: you learn how to find answers to really hard questions, but more importantly, you learn how to ask the right questions in the first place. Technology is primarily about asking "why" so you can find the right "what" and the "how." One of my favorite books is Simon Sinek's "Start with Why." It's a must-read for anyone who is a technologist or is aspiring to be one. My education at UMD taught me how to ask the right questions. Framing the right question in your mind forces you to think openly and objectively before coming to a conclusion. This is a prerequisite to technology breakthroughs or great products.
Published December 5, 2017