College Park Professor Rama Chellappa and Alumnus S. Kevin Zhou Named 2020 NAI Fellows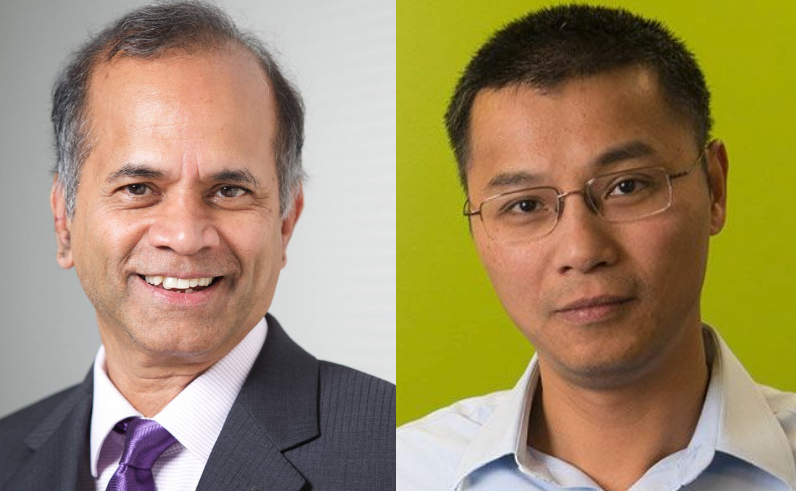 Ramalingam "Rama" Chellappa, a College Park Professor in electrical and computer engineering with an appointment in the University of Maryland Institute of Advanced Computer Studies (UMIACS), and S. Kevin Zhou (Ph.D. '04, electrical engineering), a Professor at The Medical Imaging, Robotics, Analytical Computing Laboratory & Engineering (MIRACLE) group of the Key Laboratory of Intelligent Information Processing of the Chinese Academy of Sciences, have been named 2020 Fellows by the National Academy of Inventors (NAI), joining the ranks of some of the nation's most prestigious and creative academic inventors.
Election to NAI Fellow is the highest professional distinction accorded solely to academic inventors. The 2020 Fellow class represents 115 research universities and governmental and non-profit research institutes worldwide. They collectively hold over 4,700 issued U.S. patents. The 2020 class of Fellows will be inducted at the 2021 Fellows Induction Ceremony at the Tenth Annual Meeting of the National Academy of Inventors this June in Tampa, Florida.
Chellappa was a longtime professor and chair in the Department of Electrical and Computer Engineering (ECE) whose work has been central to such fields as computer vision and machine learning. His research includes projects involving signal and image processing, pattern recognition, multidimensional stochastic processes, statistical inference, image analysis, robust and secure biometrics, and artificial intelligence in computer vision. He holds four patents.
"I was inspired to choose engineering as my career soon after I listened to the 1969 landing of Apollo 11 on my home radio in India. I am honored, 50 years later, to be recognized as a fellow of the National Academy of Inventors," Chellappa said.
He left the University of Maryland in July after 28 years and is now at Johns Hopkins University as a Bloomberg Distinguished Professor. He maintains close ties to UMD through his appointments in the ECE Department and UMIACS.
Chellappa's honors include being named a University of Maryland Distinguished University Professor, the highest appointment bestowed on UMD tenured faculty, a Minta Martin Professor of Engineering in UMD's A. James Clark School of Engineering, a UMD Distinguished Faculty Research Fellow, and a Distinguished Scholar-Teacher at UMD; receiving a UMD Outstanding Invention Award, a Faculty Outstanding Research Award, the Poole and Kent Teaching Award from the Clark School of Engineering, an Outstanding GEMSTONE Mentor Award, an NSF Presidential Young Investigator Award, and four IBM Faculty Development Awards.
Chellappa said he was also pleased that NAI elected UMD alum and colleague S. Kevin Zhou as a fellow.
S. Kevin Zhou obtained his Ph.D. degree in Electrical Engineering from the University of Maryland in 2004 and was advised by Chellappa. He is currently a Professor in the MIRACLE group, a part of the Key Laboratory of Intelligent Information Processing of the Chinese Academy of Sciences. Previously, he was the Principal Expert at Siemens Healthineers Technology Center, dedicated to researching and developing innovative solutions for medical and industrial imaging products. His research interests lie in computer vision and machine learning and their applications to medical image analysis, and face recognition and modeling.
"I am honored to be elected, especially together with my dear advisor Professor Chellappa, and I will always be honored to have been his student," said Zhou. At Maryland, Zhou did pioneering work on unconstrained face recognition in Chellappa's laboratory.
Zhou has published over 200 book chapters and peer-reviewed journal and conference papers, has registered 140 granted patents, and has written and edited five research monographs. He has won multiple awards that honor his publications, patents and products, including Best Paper Awards, Thomas Alva Edison Patent Award from NJ R&D Council, Johnson & Johnson Supplier Enable Innovation (SEI) Awards, R&D 100 Award, and Siemens Inventor of the Year. He is a recipient of the ECE 2017 Distinguished Alumni Award and a fellow of IEEE and American Institute of Medical and Biological Engineering (AIMBE).
Laurie Locascio, vice president for research at the University of Maryland, College Park and the University of Maryland, Baltimore, was also named a 2020 NAI Fellow.
Other ECE UMD NAI Fellows are Ray Liu and Min Wu (2019), and John S. Baras (2015).
Published December 10, 2020