Four Honored at 6th Annual ECE Distinguished Alumni Awards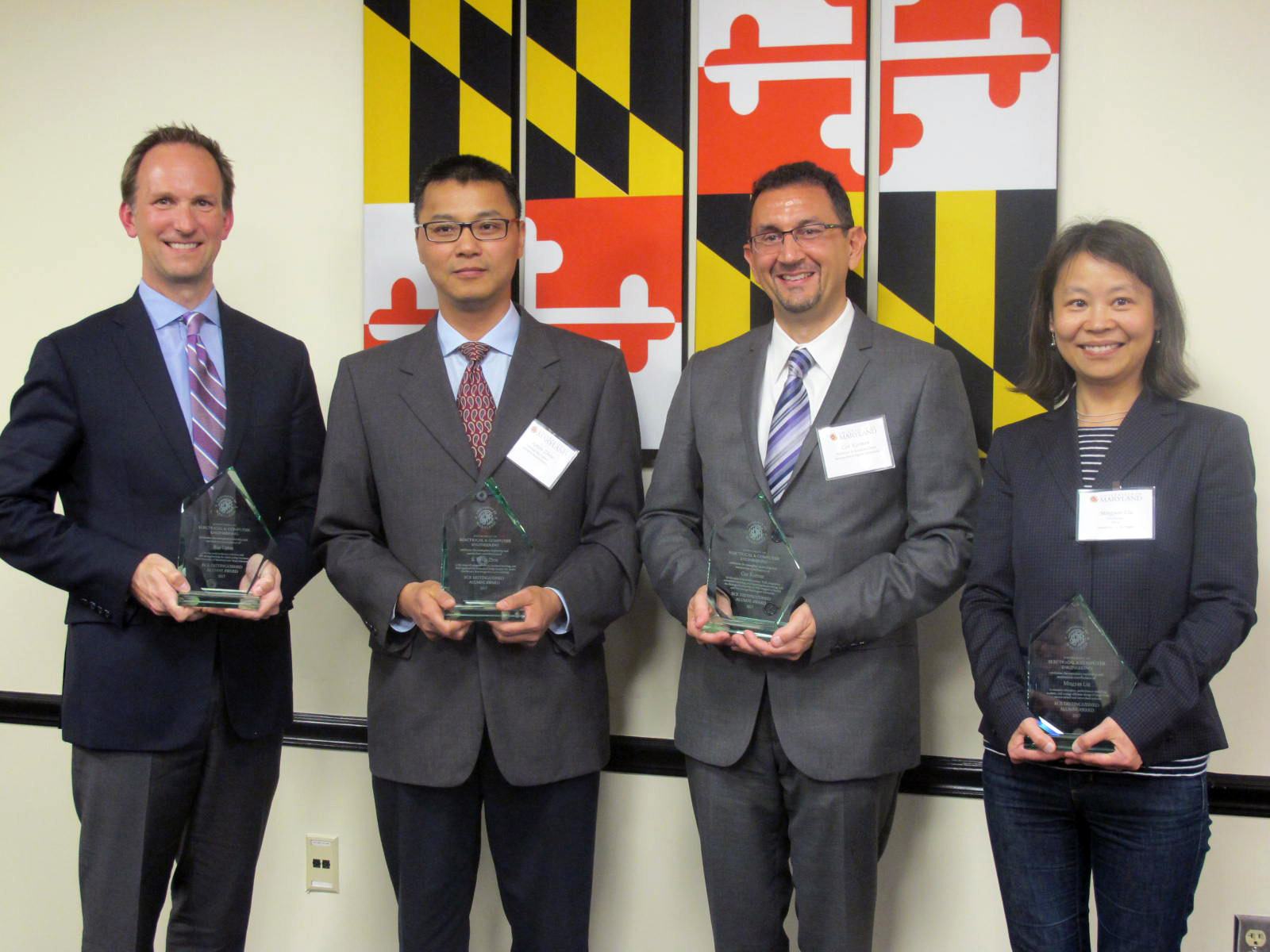 This spring, The Electrical and Computer Engineering Department honored four alumni for their leadership and meritorious contributions to the field of engineering, their humanitarian efforts, and the application of their engineering education to other disciplines, at the sixth annual ECE Distinguished Alumni Award presentation. This year's ECE Distinguished Alumni are Can E. Korman, Mingyan Liu, Ray Upton, and S. Kevin Zhou.

Can E. Korman
Can E. Korman (B.S. '85, M.S. '87, Ph.D. '90) obtained his MSc degree under the supervision of Professor Robert Harger and his Ph.D. degree under the supervision of Professor Isaak Mayergoyz, who nominated him for this award. After completing his Ph.D. at UMD, Korman joined The George Washington University (GWU) in 1991 as an Assistant Professor, and now holds the rank of Professor in the Department of Electrical and Computer Engineering. He served as Chair of that Department from 2005 to 2009 and he is currently serving as the Associate Dean for Research and Graduate Studies in the School of Engineering and Applied Science.

As Associate Dean, Korman is responsible for planning the growth of the research programs within the school, recruiting and funding of graduate students, and overseeing the graduate career services. He led the School of Engineering and Applied Science in the planning and design of GWU's new Science and Engineering Hall, the flagship research building of the university. His professional expertise is in the areas of micro-nano-electronics, micro-electro-mechanical systems (MEMS), sensors, semiconductor noise, magnetic recording and hysteresis.
He won the Eta Kappa Nu Association's Teacher of the Year Award in 1994 and the Engineer's Council Faculty of the Year Award in 1995 at GW. He is also the co-director of the Institute for MEMS and VLSI Technologies at GWU. He has authored or co-authored over 100 refereed journal papers and conference presentations.

Of his award, Korman says "It is my distinct honor to receive the 6th Annual ECE Distinguished Alumni Award from the Electrical and Computer Engineering Department. I owe my careers success to the intellectually fostering environment at the department and to the caring mentorship of my advisors and professors. I would like to thank the Department for this recognition and my Ph.D. advisor Professor Isaak Mayergoyz for nominating me. My best wishes to the continued growth and academic excellence of the ECE Department at the University of Maryland."
Mingyan Liu
Mingyan Liu (M.S. '97, Ph.D. '00) received her Ph.D. in Electrical Engineering from the University of Maryland, College Park in 2000, under the supervision of Professor John Baras who nominated her for this award. She joined the University of Michigan, Ann Arbor in 2000 in the Department of Electrical Engineering and Computer Science and currently holds the rank of Professor.
Her research interests are in optimal resource allocation, incentive design, and performance modeling and analysis, all within the context of communication networks. Her most recent research activities involve online learning, modeling and mining of large-scale Internet measurement data concerning cyber security, and incentive mechanisms for inter-dependent security games.
She is the recipient of a 2002 NSF CAREER Award, the University of Michigan's Elizabeth C. Crosby Research Award in 2003 and 2014, the 2010 EECS Department Outstanding Achievement Award, the 2015 College of Engineering Excellence in Education Award, and the 2017 College of Engineering Excellence in Service Award. She holds Best Paper Awards from the International Conference on Information Processing in Sensor Networks (IPSN) in 2012 and the IEEE/ACM International Conference on Data Science and Advanced Analytics (DSAA) in 2014. She serves/has served on the editorial board of IEEE/ACM Trans. Networking, IEEE Trans. Mobile Computing, and ACM Trans. Sensor Networks. She is a Fellow of the IEEE and a member of the ACM.
Liu is also a successful entrepreneur, having co-founded a cybersecurity startup in 2014 called QuadMetrics, Inc. The company, licensed from the University of Michigan in 2015, leverages Internet measurement techniques and predictive analytics to produce a global security ratings/scoring system for enterprises. This security score helps security professionals address gaps and sheds light on a firm's security risk; it also helps insurance underwriters construct risk-informed cyber insurance policies. In 2016, QuadMetrics was acquired by FICO, the company associated with providing consumer-credit scores.
"I am extremely honored to be selected for this alumni award. University of Maryland was the landing place for me when I first arrived in the US as a graduate student 22 years ago, and it still feels like home to me. This is where I formed many life-long friendships and professional connections. I am enormously grateful for the education I received in ECE, and the advice from many professors. I am particularly grateful for my two mentors, Prof. Andre Tits, who recruited me to Maryland, and Prof. John Baras, who convinced me to complete a Ph.D. degree and later on, to pursue an academic career. None of what I have accomplished would have been possible without them and without ECE" says Liu.

Ray Upton
Ray Upton (B.S. '95) was nominated for the 2017 ECE Distinguished Alumni Award by Professor R.D. (Mel) Gomez. After receiving his BSEE degree from the University of Maryland, Upton joined Texas Instruments (TI) in 1995 where he currently holds the position of Vice President and General Manager of the Connected Microcontroller Business Unit. He and his team are responsible for definition, innovation, development and marketing of the world's most connected and complete wired and wireless portfolio of microcontrollers, all of which are making the internet of things possible. Ray has held wide-ranging positions at TI in multiple locations in his 22-year career at TI, ranging from sales to operations, to managing product lines and business units.

In addition, for more than 5 years, he has sponsored and advised one of TI's many Diversity Initiatives, promoting the professional development of Latin and Hispanic employees at TI. He has a passion for innovation, for developing teams, and for encouraging the growth and development of people. Consistent with this passion for developing people, Ray played a key role in TI's support to establish the ENEE 101 class and lab in AV Williams, allowing students to gain hands-on experience as freshmen with the intent of igniting a passion for innovation.

Of his nomination, Ray says, "through college, I worked closely with a couple of UMD professors, which afforded me great flexibility to work independently. Because they provided me with flexibility, I wanted to do a good job in return. Through this engagement and work, I was practically exposed to semiconductors quite early, which has prepared me for where I am today."
S. Kevin Zhou
S. Kevin Zhou (Ph.D. '04) obtained his Ph.D. degree in Electrical Engineering from the University of Maryland and was advised and nominated by Professor Rama Chellappa. He is currently a Principal Key Expert at Siemens Healthineers Technology Center, dedicated to researching and developing innovative solutions for medical and industrial imaging products. His research interests lie in computer vision and machine learning and their applications to medical image analysis, and face recognition and modeling.
Zhou has published 170+ book chapters and peer-reviewed journal and conference papers, has registered 250+ patents and inventions, and has written two research monographs. He has also edited three books -- including "Medical image recognition, segmentation and parsing: machine learning and multiple object approaches" (single editor) and "Deep learning for medical image analysis" (jointly with H. Greenspan and D. Shen). In addition, he has actively served the community, being associate editor for Medical Image Analysis and IEEE Trans. Medical Imaging, area chair and program committee member for premier computer vision and medical imaging conferences, giving tutorial talks, and organizing workshops.
Zhou has won multiple awards that honor his publications, patents and products, including Best Paper Awards, Thomas Alva Edison Patent Award from NJ R&D Council, Johnson & Johnson Supplier Enable Innovation (SEI) Awards, R&D 100 Award, and Siemens Inventor of the Year. He is a fellow of American Institute of Medical and Biological Engineering (AIMBE).
Of his nomination, Zhou says, "this award means a lot to me. When I started my Ph.D. in 2000, I came to USA for the first time in my life, leaving my parents and home country behind. I developed a habit of working hard, and staying confident and focused even when my paper submissions were rejected. I became curious and challenged many research problems, which lead to publishing over a dozen papers during my time as a student. After graduation, I moved to New Jersey and joined Siemens. I have generated hundreds of inventions, including my best invention ever --- my son. I thank the department and everyone for giving me the great honor of receiving the Distinguished Alumni Award."
Published June 2, 2017