Liu and Alumna Wang Win 2015 SPS Overview Paper Award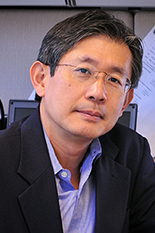 Christine Kim Eminent Professor of Information Technology K.J. Ray Liu and Beibei Wang (Ph.D. '09), Liu's former advisee, received the 2015 Signal Processing Society Overview Paper Award for their work entitled, "Advances in Cognitive Radio Networks: A Survey." Wang currently works as a Senior Systems Engineer with the Corporate Research and Development arm of Qualcomm Incorporated.
Professor Liu and Wang share research interests in wireless communications and networking with a focus on cognitive radios, dynamic spectrum allocation, and network security. Professor Liu also leads the Maryland Signals and Information Group which conducts research encompassing broad aspects of wireless communications and networking, information forensics and security, multimedia signal processing and biomedical engineering.
Liu and Wang coauthored this paper in 2011, it then appeared in the Institute of Electric and Electronics Engineers (IEEE) Journal of Selected Topics in Signal Processing in February of 2011. According to Google Scholar, this paper has been cited 683 times. Their previous collaborations include a book, "Cognitive Radio Networking and Security: A Game-Theoretic View" published by Cambridge University Press.
The Overview Paper Award honors the author(s) of a journal article of broad interest that has had substantial impact over several years on a subject related to the IEEE Signal Processing Society's technical scope. Liu and Wang's paper presented an overview of a method or theory with technical depth and application perspective. It has had a multi-year record of impact and is relevant to current researchers and/or practitioners.
The award will be presented to Professor Liu and Dr. Wang at the International Conference on Acoustics, Speech and Signal Processing (ICASSP) to be held in Shanghai, China from March 20-25, 2016.
Published December 10, 2015