Sankaranarayanan, an ECE Alumnus, to join CMU as Assistant Professor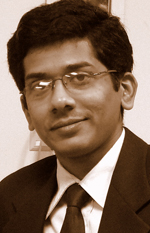 Dr. Aswin Sankaranarayanan, an alumnus of the Electrical and Computer Engineering Department and former advisee of Minta Martin Professor of Engineering Rama Chellappa will be joining Carnegie Mellon University as an assistant professor in the spring of 2013.
Dr. Sankaranarayanan graduated with a Ph.D. in EE from the University of Maryland in 2009. He is currently a research scientist under Professor Richard Baraniuk; both are members of the Digital Signal Processing (DSP) Group in the ECE department at Rice University.
At CMU, Sankaranarayanan will focus on building imaging systems for sensing complex visual signals, and developing algorithms for processing large-scale data.
Dr. Sankaranarayanan has authored many journal and conference papers, as well as receiving several awards, most recently the Best Paper Award in 2010 at the International Workshop on Analysis and Modeling of Faces and Gestures. He received a Distinguished Dissertation Fellowship from UMD's ECE department in 2009 and completed the Clark School's Future Faculty Program.
His research interests are in signal processing and computer vision, focusing on topics in computational photography, compressive sensing and materials with complex visual properties.
Published April 17, 2012