New Employees Join Electrical and Computer Engineering Undergraduate Office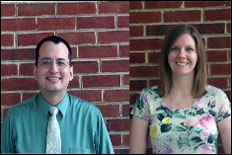 The Department of Electrical and Computer Engineering added two new staff members to the Office of Undergraduate Studies—a Director of Undergraduate Studies and an academic advisor to fill positions previously held by Dr. Judith Bell and Mr. Stephen Norton. Associate Chair for Undergraduate Studies Professor Mel Gomez welcomed Mr. Neruh Ramirez and Ms. Becky Baltich Nelson to the team when they reported to work in June.
Mr. Ramirez will serve as the Director of Undergraduate Studies. He joins us after a well-respected tenure at the University of Maryland School of Nursing in Baltimore, where he was the Assistant Director of the Student Success Center. That center operated as a grant funded office focused on retention through supplemental instruction, tutoring and a variety of other educational opportunities.
Neruh is intimately familiar with the University of Maryland—he holds a Master of Arts in Higher Education Administration and a dual Bachelor of Arts in History and Government & Politics which he earned at our flagship institution in College Park. He will be a strong asset to our department with more than 11 years of experience in academic affairs with the School of Nursing, Letters and Sciences, the College of Education and the Office of Undergraduate Admissions. He is working on his Doctorate degree in Education Policy.
After a stressful day at the office, Neruh blows of steam fine-tuning his gaming skills on Xbox 360. Even away from work, he still finds time for Maryland as an avid fan of university athletics teams. He enjoys cooking and even though he just returned from his hometown in Ecuador, he hopes to find more opportunities to travel.
Becky Baltich Nelson will fill the role of academic advisor. Mrs. Baltich Nelson found inspiration for her career in the advice of an advisor as she reached a turning point in her own academic pursuits. She has a Master's degree in College Counseling & Student Development from St. Cloud State University (SCSU) in Minnesota and Bachelor of Science in Psychology from the University of Wisconsin-Superior. She comes to us with more than three years of experience in undergraduate advising, and extensive experience in counseling.
Becky's move to the University of Maryland was a well-orchestrated one because she wished to move from her home in Minnesota to the Washington, D.C. area and return to an academic advising position in a traditional university setting. When asked what she is most looking forward to as the school year begins, she said, "I am excited to interact with students face-to-face and look forward to attending lectures, watching UMD sporting events, and enjoying all of the benefits that working at a university has to offer!"
Outside of the office, Mrs. Baltich Nelson enjoys reading, exploring her newly adopted hometown, mastering Tetris, and planning her future travels. She is an easy-going person who is happy to lend her colleagues and ECE students a helping hand. "I'm easy-going; feel free to stop by if you need anything!" she said.
The collective experience of Mr. Ramirez and Mrs. Baltich Nelson will bolster an already successful ECE department. Both staff members have a passion for helping others and will guide our students through the successes and challenges of their undergraduate careers.
Published June 15, 2012